Brenn-o-kem worcester/Breedekloof winemaker of 2020 has been crowned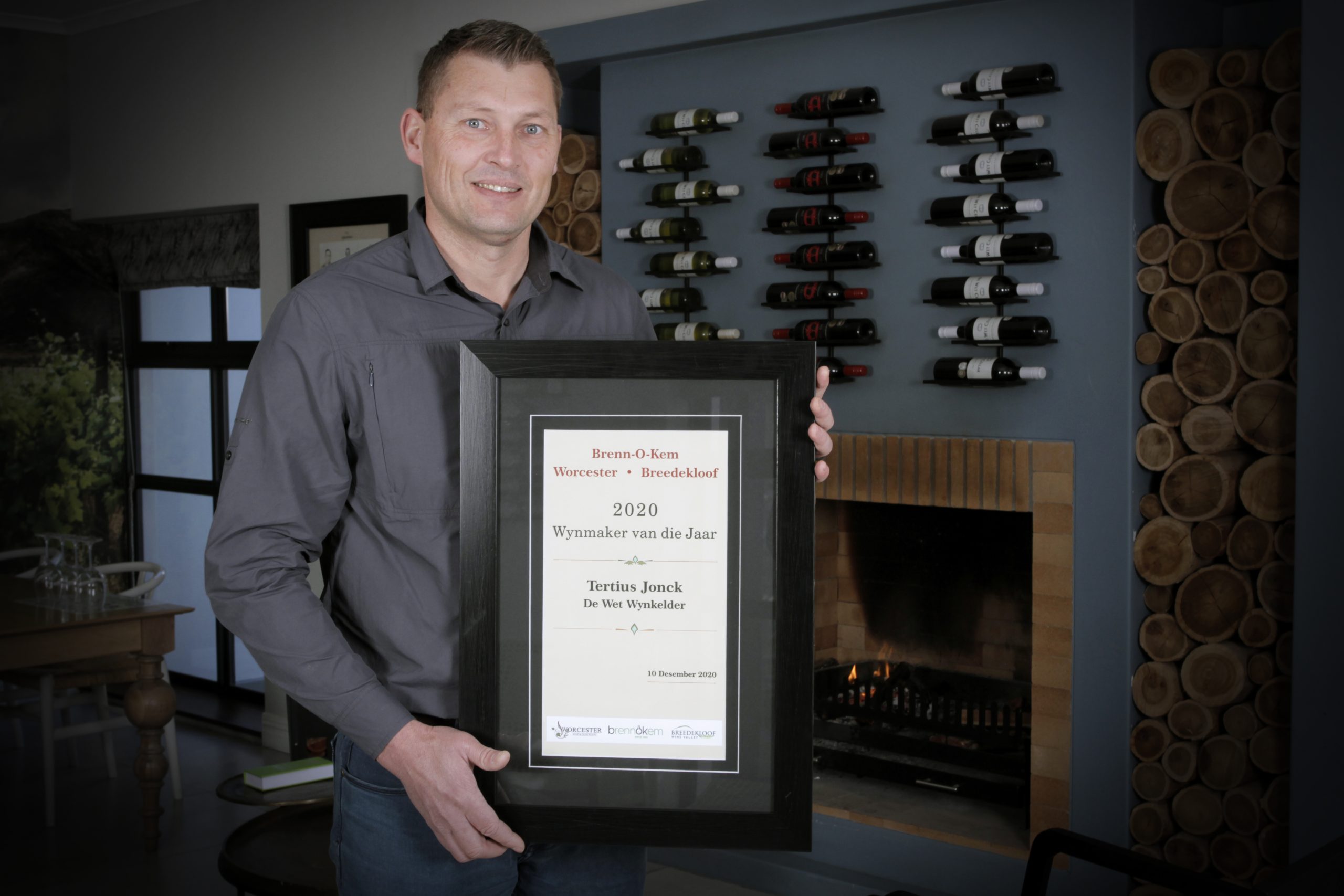 De Wet Cellars White Winemaker, Tertius Jonck, is the 2020 Brenn-O-Kem Worcester/Breedekloof Winemaker of the Year. The awards lunch was hosted at Lions Creek Olive Estate, Worcester on Friday 13 August 2021.
This annual event is proudly sponsored by Brenn-O-Kem, a company specialising in transforming winery waste into value-added natural products used in the wine industry, pharmaceutical industry and other markets since 1968.
This sought after award, now in its tenth year of its current format, is awarded annually to a winemaker in the Worcester/Breedekloof region.
"Receiving this award is a big honour and I am very much humbled, looking at the classes the individual wines performed in. Persistence to improve pays of in the end. Just never give up. Luckily we have partners like Brenn-O-Kem who supports this specific competition, recognizing the winemakers in our lovely valley of Worcester and the Breedekloof." Says Tertius Jonck
Winners in Other Categories:
The Top White Wine (sponsored by Wine Machinery Group) was clinched by Cilmor Wines: Sauvignon Blanc 2019 and the Top Red Wine (sponsored by Porex) was awarded to Alvi's Drift: Verreaux Pinotage 2019. The Swarte Piet Trophy – awarded to the winemaker who best represented the region in the South African wine industry in 2020, was won by Annemarie van Niekerk from Botha Cellar.
Competition Format & Judging Process:
The format of the competition is as follows – each cellar from the Worcester/Breedekloof region enters three to five wines in a category. These wines need to be available for purchase at their tasting rooms or other stores.
There are eight categories in which the wines are judged blind – Chenin Blanc, Sauvignon Blanc, other white or any wooded white wine, red- and white blends, Pinotage, Shiraz and Cabernet Sauvignon.
82 entries form 18 producers were judged by:
Tom Block (Convener) – Cape Wine Master
Anton Swarts – Cape Wine Master & Winemaker
Jaco Potgieter – DGB wine buyer
Hermias Hugo – Marketing Manager Pulpit Rock
Bruce Jack – Bruce Jack Winemaker
Maryna Calow – Communications Manager: WOSA