WORCESTER WINE & OLIVE ROUTE
On the eastern edges of the Cape Winelands lies a small town with an old soul and a big heart.
Surrounded by a vast landscape of rugged mountains, open plains and outstretched vineyards, Worcester is not only known as the care capital of South Africa but is also the hub from which to discover the Worcester Wine and Olive Route.
With its 11 award-winning wine estates and 2 world-class olive producers, the beautiful valley offers an unforgettable experience: sunny Mediterranean-like weather, authentic old-world charm, a relaxed country atmosphere and renowned as one of the country's award winning wine destinations.
Just a short meander from cellar to cellar will make it abundantly clear why it is known as the valley of friends. And every friend will feel at home, from the connoisseur who savours every sip, to the collector in search of one-of-a-kind finds, and the traveller who just wants to enjoy the journey.
Entice your senses with plentiful food and wine pairings, a delectable cheese platter, or a hearty meal. Or explore the familiar taste of the ancient olive, offered with all its modern twists.
Enjoy the thrill of fresh air when you grab your mountain bike or go for a hike. Then stay over for a peaceful night's sleep far away from the hustle, whether in a rustic little farm cottage or luxurious old homestead.
No matter your taste, no matter your style, come let down your hair and allow your heart to be captivated by the natural beauty of Worcester's countryside.
There's a light to the east of the Du Toitskloof Mountains, and it's the splendour of a valley just waiting to be explored.
The Worcester Wine and Olive Route – your beautiful award-winning wine and olive destination.
DOWNLOAD A COPY OF THE WORCESTER WINE & OLIVE ROUTE MAP TODAY TO START PLANNING YOUR TRIP!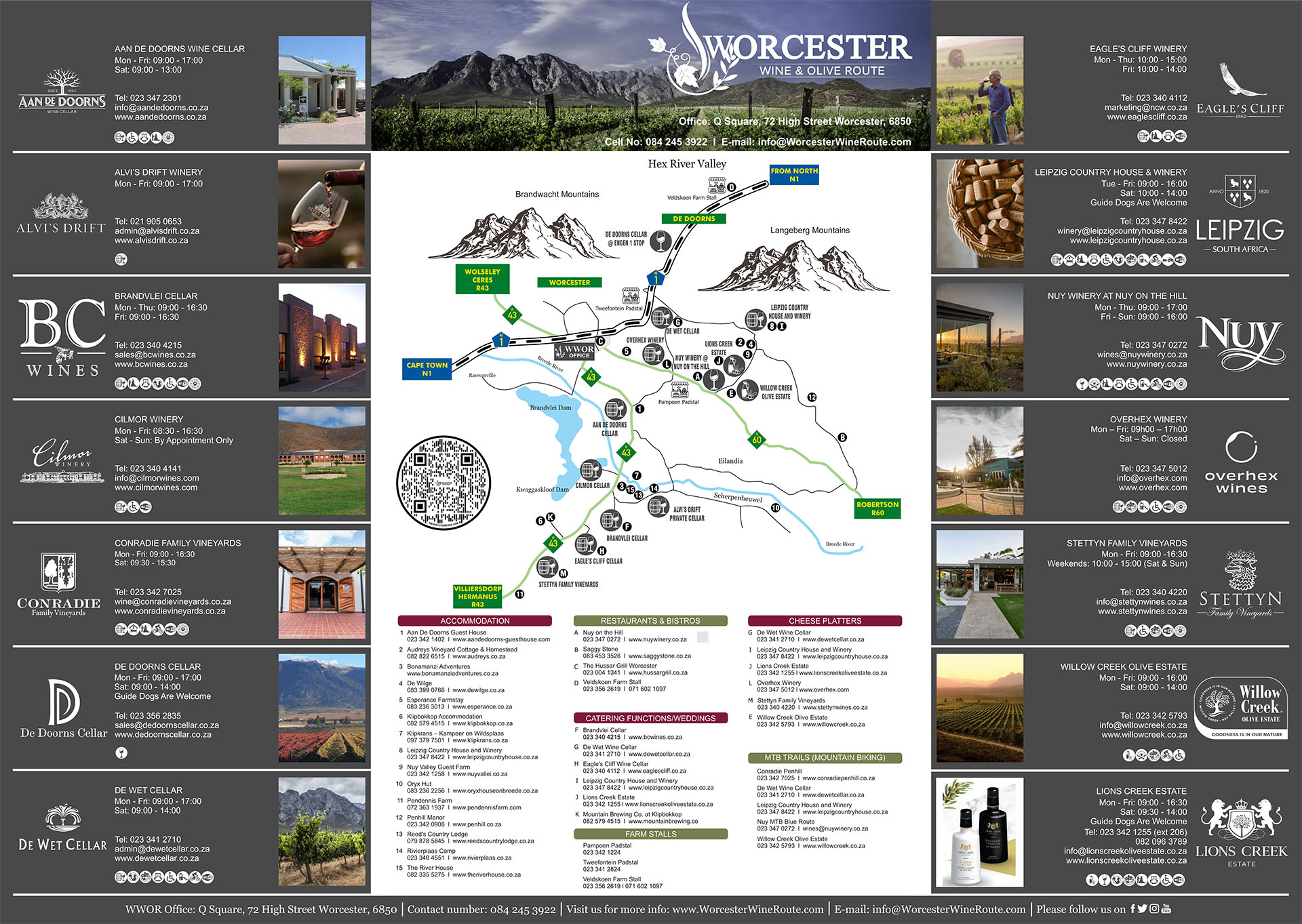 SUBSCRIBE TO OUR NEWSLETTER FOR THE LATEST NEWS, EVENTS AND MUCH MORE HAPPENING AROUND WORCESTER WINE & OLIVE WINE ROUTE
GET THERE WITH GOOGLE MAPS
Aan De Doorns
Mon. – Fri: 09:00 – 17:00
Sat: 09:00 – 13:00
CLOSED PUB. HOLIDAYS
Alvi's Drift
Wine tastings are by appointment only, booked 48 hours in advance.
BC WINES
Mon. – Thu: 09:00 – 17:00
Fri: 09:00 – 16:30
Sat. – Sun: Closed
CILMOR WINERY
Mon – Fri: 09:00 – 16:30
Sat. – Sun: Closed
CONRADIE FAMILY VINEYARD
Mon – Fri: 09:00 – 16:30
Sat: 09:00 – 15:00
Sun: 11:00 – 14:00
DE DOORNS CELLAR
Mon. – Fri: 08:00 – 17:00
Sat. – 08:00 – 14:00
Sun: Closed
DE WET CELLAR
Mon. – Fri: 09:00 – 17:00
Sat: 09:00 – 14:00
Sun: Closed
EAGLE'S CLIFF
Mon. – Thu: 10:00 – 15:00
Fri: 10:00 – 14:00
Sat. – Sun: Closed
LEIPZIG WINERY
Tue. – Fri: 09:00 – 16:00
Sat: 10:00 – 14:00
Sun. – Mon: Closed
NUY WINERY
Mon – Fri: 09:00 – 17:00
Sat – Sun: 09:00 – 16:00
Pub. Holidays: 09:00 – 16:00
OVERHEX WINERY
Mon – Fri: 8:00 – 17:00 
Sat. & Sun. Closed
STETTYN
Mon. – Fri: 09:00 – 16:30
Only Open Saturdays Between Oct. & Mar: 10:00 – 13:00
WILLOW CREEK
Mon. – Fri: 09:00 – 16:30
Sat: 09:30 – 14:00
Inc. Public Holidays